illumina NovaSeq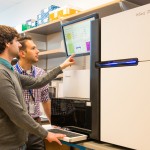 Researchers interested in illumina sequencing services are encouraged to contact us prior to submitting samples.  During the consultation period we will address any researcher questions and discuss sample preparation, number of samples, multiplexing options, type of sequencing run, number of sequencing cycles, and data analysis.  When the experimental details are agreed upon, the core can provide the researcher with a custom cost estimate for the project if desired.
illumina NextSeq
The newest instrument in the core facility is the illumina NextSeq platform. This platform is the perfect balance between speed and throughput. With paired-end technology and supporting read lengths of up to 2×150, it is the perfect machine to run pools of RNA-Seq, ChIP-Seq and Exome-Seq data quickly and efficiently.
illumina MiSeq
This platform specializes in more targeted sequencing geared toward smaller genomes and smaller search space investigation. This includes Amplicon, Exome and Bacterial 16S sequencing. Through our partnership with Buffalo's Women's Health Initiative, we will be analyzing the microbiome of several thousand Western New York women.