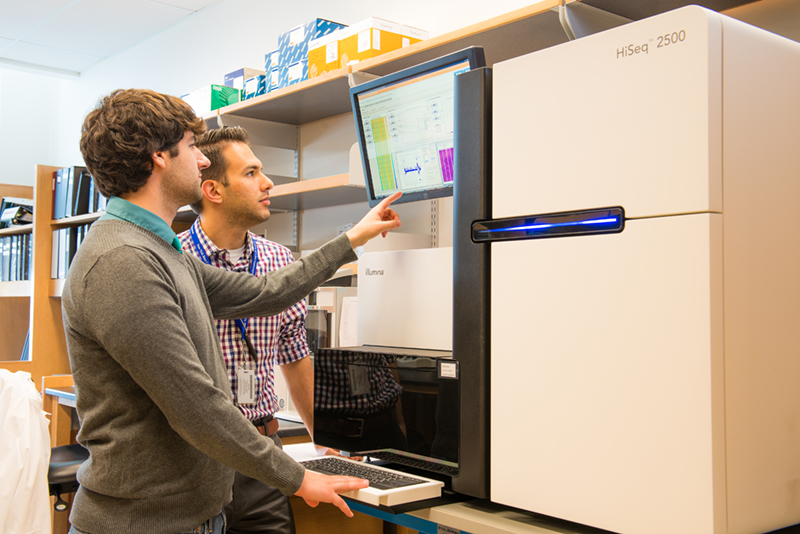 The UB Genomics and Bioinformatics Core is located on the Buffalo Niagara Medical Campus at the New York State Center of Excellence in Bioinformatics and Life Sciences. We are proud to be the first next-generation sequencing service provider in Western New York. We currently offer services on the following analysis platforms:
New! 10X Genomics Chromium Is Here!
We are excited to announce that we now offer the 10x Genomics Chromium platform. This platform specializes in single-cell RNA-Seq, single-cell V(D)J, and whole genome linked read libraries that are compatible with our illumina sequencers. Please contact us for more details on how to best leverage this new technology, and for pricing information.
High-Throughput Sequencing
illumina HiSeq2500 –  With the release of the illumina V4 chemistry, the HiSeq2500 is capable of producing up to 1 terabase(Tb) of data per run, and achieve sequence lengths of 2×250. At our facility, two HiSeq2500s have a direct connection to UB's Center for Computational Research, a high performance computing cluster, which allow us to process samples rapidly and provide timely results to researchers.
illumina NextSeq – This new addition to our offerings allows us to rapidly process RNA-Seq, ChIP-Seq and other similar experiments that require less output than a HiSeq2500, but more than a MiSeq. Contact us for details!
illumina MiSeq – This platform specializes in more targeted sequencing geared toward smaller genomes and smaller search space investigation. This includes Amplicon, Exome and Bacterial 16S sequencing.
Bioinformatics
On staff are four dedicated Bioinformaticians to help facilitate research projects that are sequenced at our facility. Standard analysis of sequencing data includes FastQC quality reports, FastQ screening for common contaminants, and assay specific genomic alignments.
Whole-Genome/Exome – Genomic alignment, GATK best practices variant calling, and variant annotations.
ChIP-Seq – Genomic alignment, quality assessment using ENCODE standards, peak calling and visualization are offered as standard analysis for projects sequenced at our facility.
RNA-Seq – Genomic alignment,  and quantification of Gene and isoform level expression can be preformed via the HTSeq or Cufflinks algorithms and data visualization is optional via DESeq2 or CummeRBund.
miRNA-Seq – miRNA quantifications against the most up-to-date miRBASE is available through our commercial license of the CLC Genomics Workbench product.
Custom Consultations – We welcome collaborations on both research projects and commercial endeavors. Please contact us for more details.
A La Carte – An assortment of offerings, including standard genomic alignments, adapter trimming, SNP calling etc. are also available upon request.
Additional Services
Diagenode SX-8G Compact Automated Systems
QX100 Droplet Digital PCR Machine (Biorad)
Agilent Microarray Scanner G2505C
10x Genomics Chromium Platform
For more information, please contact us at cbi-ubnextgencore@buffalo.edu