Not only do we service investigator projects facilitating their private research, we are also actively involved in several large data initiatives that are pushing further toward the goal of personalized medicine.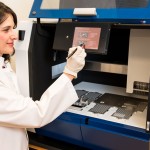 As a part of a $4 Million interdisciplinary study, we are working to study and understand the microbial landscape of postmenopausal women and its relationship with periodontal disease. These samples originate directly from Western New York women, creating local ties to cutting edge research.
Read more about this project . . . 
A unique collaboration between both public and private entities was established in 2014 as part of a $100 Million initiative to push forward genomic research. Leading researchers with expertise in genomics, high-performance computing, healthcare informatics, and clinical diagnostics were partnered to leverage the Big Data being generated at our facilities.
Read more about this project . . .
Situated in the same facility as the Center for Computational Research directly facilitates our ability to rapidly preform genomic analysis on a massively parallel scale. Our data is directly transferred from sequencer to CCR resources, eliminating costly time and energy, and giving direct access to high-performance computing resources.